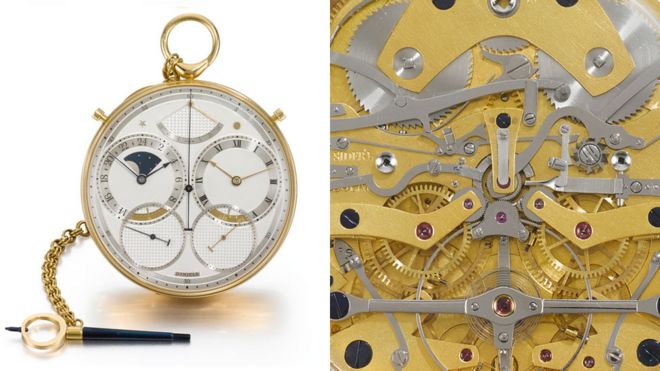 The World Most Expencive Watch in 2017
The 'Space Travellers' watch, was sold for £3,196,250 by Sotheby's on 19 September 2017, making it as the highest priced timepiece in the world.
Sotheby's describe it as: AN 18K YELLOW GOLD CHRONOGRAPH WITH DANIELS INDEPENDENT DOUBLE-WHEEL ESCAPEMENT, MEAN-SOLAR AND SIDEREAL TIME, AGE & PHASE OF THE MOON AND EQUATION OF TIME INDICATIONS CIRCA 1982 SPACE TRAVELLERS' WATCH.
It is considered one of the celebrated British watchmaker's most important timepieces. The 'Space Travellers' watch, Named in honour of the American moon landing in 1969, Made around 1982 by the world-renowned horologist, Dr George Daniels.
Many experts believe the Space Travellers' watch, is Dr George Daniels' finest achievement. It took him more than 2,500 man hours to complete.
The sale price of £3.2m is more than doubled its own record set in November 2012 for £1.32m. It make a great return for the last investor.
Source: http://www.bbc.co.uk/news/world-europe-isle-of-man-41412137
http://www.cityam.com/272326/george-daniels-space-travellers-watch-sells-record-gbp32m